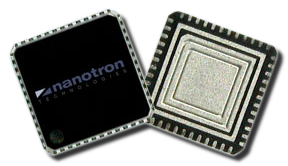 nanoLOC TRX Transceiver
High Performance RF Transceiver with Location Awareness and Robust Wireless Communication
Highly Integrated Solution with Ranging – The nanoLOC TRX Transceiver is a highly integrated mixed signal chip offering robust wireless communication and ranging capabilities. It utilizes Chirp Spread Spectrum (CSS), a unique wireless communication technology developed by nanotron for the 2.4 GHz ISM band.
Ranging and Robust Wireless Communication – With its unique ranging capability, nanoLOC measures the link distance between two wireless nodes. As ranging is done during regular data communication, additional infrastructure, power, and/or bandwidth is not required.
Adjustable Center Frequencies Supported – nanoLOC supports a freely adjustable center frequency with three non-overlapping frequency channels. This enables multiple physically independent networks and coexistence with existing 2.4 GHz wireless technologies.
Ease of Installation – Due to the chip's unique chirp pulse, adjustment of the antenna is not critical. This significantly simplifies the system's installation and maintenance ("pick and place").
Few External Components Required – To minimize software and microcontroller requirements, the chip provides scrambling, automatic address matching, packet retransmission, and hardware acknowledgements. A sophisticated MAC controller in the chip supports FDMA, CSMA/CA, TDMA, Forward Error Correction, and 128 bit hardware encryption. Support for an external amplifier is provided.