RTLS – Edge Anchors
Real-Time Data insight requires continuous data acquisition of Location and Sensor Data at the edge. Nanotron's Edge Anchors seamlessly connect the What, Where and When from their Location Aware sensors with the value generated by nanotron's 360° Edge Analytics software. Edge Anchors provide THE IoT interface to send any location and any context information to the Analytics Engine. Edge Anchors are proven in deployments running 24/7 with several thousands of entities. 
nanotron is proud to emphasize that true scalability simply means:
Add more anchors on the same network to cover larger areas.
Add more tags to increase the number of objects tracked. No Overhead!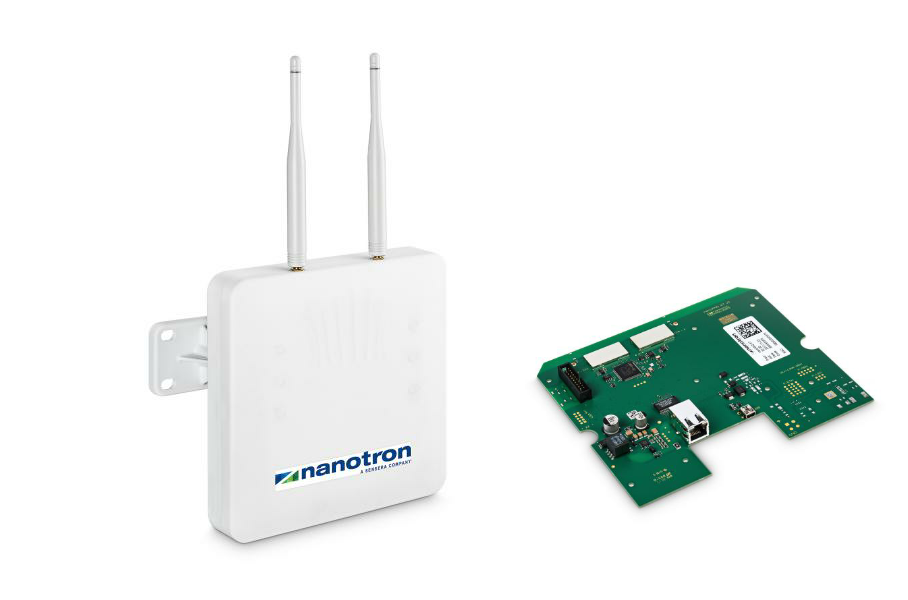 nanoANQ Edge Anchor Variants
nanoANQ EA (Chirp)
The nanoANQ EA enables Long Range Location Applications (10 – 500 meter) at 1 meter accuracy with 2.4 GHz Chirp RF technology.
nanoANQ EA ER (UWB)
The nanoANQ EA ER with Enhanced Resolution (10-30 cm) enables Short Range Location Applications (0 – 50 meter) with UWB RF technology.
All types of anchors can be used together in one application concurrently with nanotron's own location engine nanoLES 3 and the Location Data Analytics Software 360° Edge Analytics to extend the user's application range.
Both Edge Anchors feature two SMA antennas and an Ethernet port with PoE to connect to the network. Two power supply options are available: DC IN and Power-Over-Ethernet (PoE). The DC IN supply can be provided by a wide range of voltages between 12 and 24 V. nanoANQ Edge Anchors include an IP 65 housing*. Power supply and CAT 6 Ethernet cables are connected through rubber-sealed openings at the back of the housing.
*The IP rating can only be guaranteed if installed in accordance with the installation guide (included within the product package).
How it Works
Edge Anchors are fixed devices in an RTLS system. Their main function is to receive blinks from location tags and forward them to the location server – nanoLES. Then nanoLES performs wireless synchronization of anchors and calculates the tag position using the location method TDOA (time difference of arrival). For 1D location application, at least two anchors are required for reliable location data. Theoretically, three anchors are sufficient for 2D location. However, our experience shows that at least six (eight in extreme harsh industrial environments) anchors are needed for 2D location in an RTLS installation to get reliable location data.
Through their air interface, anchors support bidirectional payload (e.g. sensor data or messages) exchange between the location server and the individual tags.
All anchor variants feature a power amplifier which is adjustable from 0 to 19 dBm for robust communication and long range.
The anchors utilize IP-based data and management protocols and feature a built-in DHCP client. Thus they can be configured remotely through their API over the network.
With the next level of IoT integration, nanoLES now connects to nanotron's 360° Edge Analytics software. 360° Edge analytics performs the information fusion of multiple location technologies and sensors in parallel. The result is an automatic event detection system delivering for actionable business insights and process optimizations.