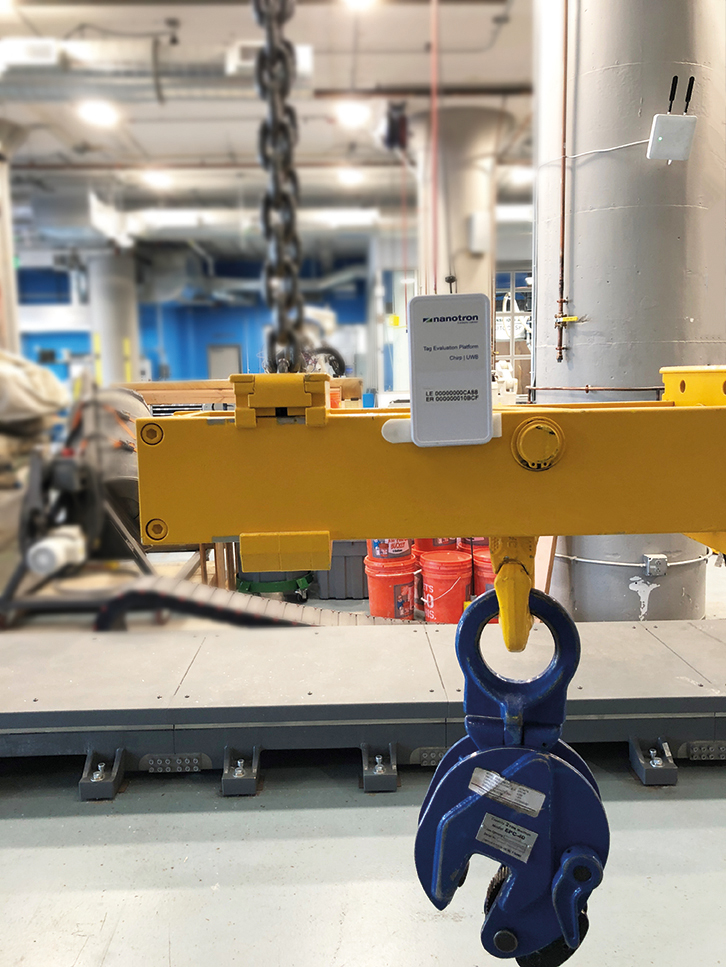 Automatically tying sensor readings with their 3D positions
September 16, 2019 – Sensera Limited (ASX:SE1, "Sensera" or "the Company"), an Internet of Things (IoT) solution provider that delivers sensor-based products transforming real-time data into meaningful information, action and value, announces that it has been selected by Autodesk (NASDAQ:ADSK) to participate in its Residency Program at its Technology Center in Boston, MA. Autodesk is a leader in 3D design, engineering and entertainment software, and generates more than USD 3.2 billion in annual revenue.
The Residency Program at the Autodesk Technology Centers in Boston, San Francisco, and Toronto provides open workspaces for teams from industry, academic, and startup communities doing forward-looking work in the areas of construction, manufacturing, and design.
Sensera joins other residents at the Boston Technology Center, which focuses on industrialized construction, digital fabrication, automation and robotics in construction, and other ideas that are transforming the built world including architecture and engineering. More than just a workspace, the center fosters an open community where industry thought leaders can work alongside each other on a shared vision of the future of construction.
As part of this program, Sensera will be demonstrating its real-time 3D location services and smart sensor visualization to visiting customers, other residents and Autodesk. The Sensera installation will show centimeter-precision 3D location tracking across several levels of the building where a crane operates, and lower cost meter-precision 2D location tracking on the factory floor.
To monitor positions and movement in real-time, tags can be fixed on any asset such as a forklift truck or on moving parts such as a crane hook. Sensor data from the tag is automatically tied to its location. A light-weight Intel NUC edge device runs location engine software and IoT middleware with data analytics and user interface.
Ralph Schmitt, CEO of Sensera, said: "Our demonstrated solutions will focus on smart construction, enabling personnel, tool and material tracking capabilities – to give real-time visibility of what, where and when – as well as safety/keep out area enforcement, and next-generation worksite workflow optimization. We're excited that thanks to Autodesk, we have a unique opportunity for leading-edge companies to touch and evaluate our solution."
Hardware from Sensera's subsidiary, nanotron, is made available for evaluation or integration into the projects of interested tenants at the center and the company can provide expert onsite support.
# # #
About Autodesk Technology Centers
The network of Autodesk Technology Centers in San Francisco, Boston, Toronto, and Birmingham, UK, brings together industry, academic, and entrepreneurial communities to create a shared vision of the future of making. In these spaces, we help bring to life solutions that enable people to do more and make better things with less negative impact on the world. For more information visit www.autodesk.com/technology-centers.
About Autodesk
Autodesk makes software for people who make things. If you've ever driven a high-performance car, admired a towering skyscraper, used a smartphone, or watched a great film, chances are you've experienced what millions of Autodesk customers are doing with our software. Autodesk gives you the power to make anything. For more information visit autodesk.com or follow @autodesk.
About Sensera Limited (ASX:SE1)
Sensera is an Internet of Things (IoT) solution provider that delivers sensor-based products transforming real-time data into meaningful information, action and value. The company designs and manufactures hardware and software across the vertical technology spectrum from unique structures as MicroElectroMechanical Systems (MEMS) and sensors, as well as wireless networked systems and software that when combined, drive an entire IoT platform solution.
Shares in Sensera Limited (ASX: SE1) are traded on the Australian Securities Exchange (ASX). For more information, please visit our website: www.sensera.com.
Any forward-looking statements in this announcement are not guarantees of future performance and involve known and unknown risks, uncertainties, assumptions and other important factors, many of which are beyond the control of the Company, its directors and management.